De 4e Big Jazz Night brengt weer volop Swing, Jazz & Dance, verspreid over twee podia: de zaal en het café. In het Mezz café staat swingende bigbandjazz centraal. De Nieuwe Veste Bigband begint de avond met enkele arrangementen van de hand van de internationale stersolist Gerard Presencer (trompet). De bigband heeft onder zijn leiding de stukken ingestudeerd tijdens de workshop dezelfde middag.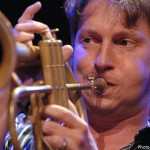 Gerard Presencer speelde bij jazzgiganten als Herbie Hancock, Chick Corea en Courtney Pine, maar ook in de popmuziek met grote artiesten als Jamiroquay, The Brand New Heavies, The Spice Girls, Robbie Williams, Sting en werd m.n. bekend van de tophit 'Cantaloop' van US3.
Entree bedraagt € 9,50 (via www.mezz.nl) of €10,50 (aan de deur). Reserveren kan bij MEZZ, tel. 076 515667. Kijk ook op www.bigjazznight.nl. Zaal open om 20.00 uur.